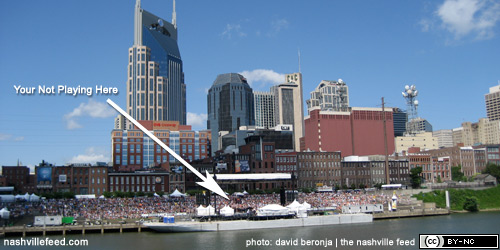 CMA Music Festival kicks off officially on Thursday and some start on Wednesday but most people start today. They are attending fan club parties, sight seeing and doing the basic tourist thing. As an artist what are you doing to take advantage of the influx of Country Music fans?
Last week I posted on how to take advantage of this event without actually being at the event. Now it might be too late to plan and implement so what do you do if you're a procrastinator that wants to do something?
You can still go social but far fewer of your fans are going to be in front of their computers and some will be on mobile. The Country Music fan tends to be a little be behind on this whole technology things. It doesn't mean you can't try to connect to those who are.
Viral might be your best bet to get things rolling but if not implemented correctly or the payoff falls flat you are going to look foolish.
What to do? It really is different for everybody. First thing I'd do is find a place to play. I know through a source that the Wild Beaver Saloon downtown might have open spots but you'll have to check with them. Looking at their schedule it looks pretty booked up.
Next figure out a way to promote the show online and off. I say figure out a way to make it a surprise. Leave some mystery, let people hunt a little, don't misrepresent who is playing by making people think its some huge artist. Because when they show up and it's you and not lets say Kenny Chesney the fans will be irritated and even pissed.
One idea is partner with a bar to offer a discount. Say $1 off a special drink during your show. Course bars make a killing during the festival so getting someone to offer a discount is nil. If you have the budget you could pay the discount to the bar for a certain number of drinks.
Key things to do is play out and offer your products at a reasonable price. You're there to make new fans not a killing on selling CDs.