Fair warning: Some of the links in this article will lead to websites featuring nudity. Be careful on the company's computers.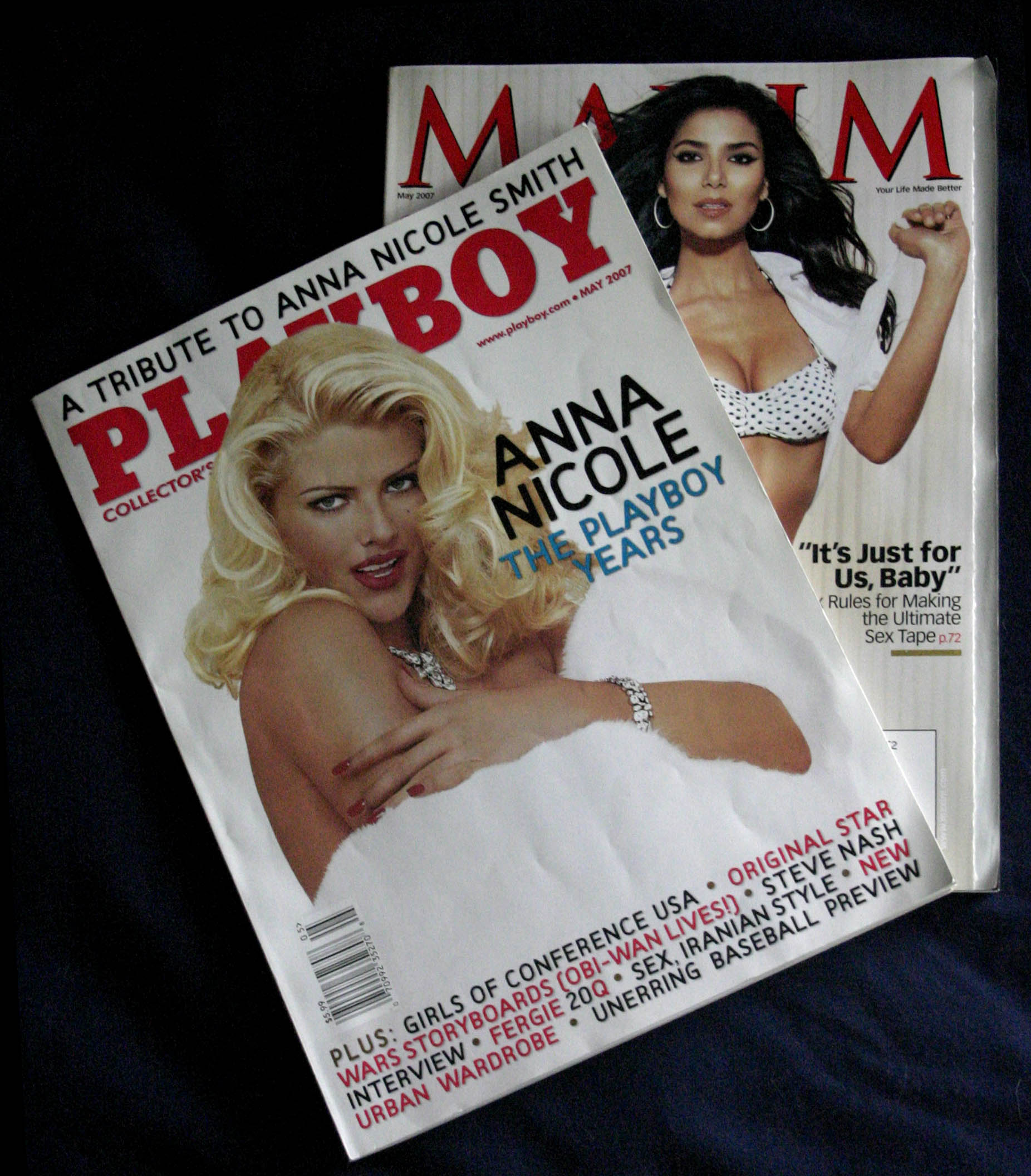 Pornography has achieved some degree of acceptance along with accessibility. Throughout the past 15 years the Internet, Hustler stores, and late night infomercial marketing of Girls Gone Wild have changed porn from a dirty little secret to a recognized part of our culture.
The traditional skin magazine has lost a lot of ground in this new world. According to Magazine Publishers of America, Penthouse last cracked the top 100 circulating magazines in 1999. But Playboy, the only other full frontal publication on 1999's list, has been able to consistently maintain its ranking in the mid teens through today.
Gradually, but steadily, moving up the list is Maxim. In 2006 it ranked 21, up from 23 the previous year, and within striking distance of Playboy's number 17 spot.
Both are targeted almost exclusively to males ages 18-44. Both highlight sex to sell to this demographic. The sex highlighted is entirely heterosexual male attraction to a particular, non-diverse female image. Both are 144 pages, although the number of non-advertisement pages varies greatly between the publications.
But there are significant differences, also. Playboy is soft-core pornography, while Maxim is pretend pornography. Maxim may show a great deal of skin, but anyone hoping to get a clear view of nipple will have to use his own imagination.
This may disappoint many readers, but it may also work to Maxim's advantage. Maxim can be sold in venues that shy away from publications considered outright pornography. It also allows its readers the liberty of unashamedly reading the magazine in dentists' waiting rooms, on airlines, and in other everyday environments.
Playboy has a newsstand price of $1 more than Maxim's $4.99, but Playboy arguably offers a lot more for that extra dollar.
A look at the May 2007 issues of both magazines offers an opportunity for closer comparison.
Of 144 pages, Maxim contains 56 full pages of ads. Playboy has only 19 full-page ads. Maxim does not offer anything resembling original content until page 12, and even that is just a quick note from the editor about his recent corned beef induced illness. It's a stretch to consider this page content.
It's another seven pages of ads and one page of credits before another attempt at original content is offered.
Playboy offers its "Playbill" overview of the issues on page three, then party photos on page nine and 10, reader correspondence (and the first bare breast) on pages 11 and 12, their "Babe of the Month" feature on page 15, a few short articles and photos (more boobs) on pages 16 and 17, some trivial statistics (and still more tit) on page 19.
Nine pages of original stuff, plus lots of nipples, before Maxim even makes a serious attempt at their own material.
Maxim's first offering is an advice column on page 20. Playboy also has an advice section. Both dedicate about three pages to answering reader's quests for wisdom. Maxim's "Ask Anything" is heavy on illustrations, while the Playboy Advisor is composed primarily of text (and a small illustration of a naked chick).
The content of the Playboy Adviser is nothing too unexpected. They cover health, relationships, food and drink, blow jobs, fashion, tipping, women masturbating, stereos, etc. There is no indication of who is answering these queries or why she/he feels qualified to do so.
Maxim does give the names and titles of the expert whom they consult, when they do consult an expert. Their subjects are a little outside of what one might anticipate. They cover basics like relationships, exercise, tipping, fashion, financing automobiles, music, etc. But they also get weird, without any recognition that they are getting weird.
Do ninjas still exist? Maxim does not consult an expert for an answer, but still seems to take the question seriously. Ninjas do not still exist, if you're curious. That guy on the web must not be an actual ninja.
How can I survive a mountain lion attack? They go to Kyle Orr of the California Department of Fish and Game on this one. There is no suggestion that people should not live in the natural habitat of mountain lions. Instead, we are just supposed to poke their eyes out in the event that we encounter an angry one.
I can apply information on health and blow jobs to my life, but I do not find a great deal of value in advice on ninjas and mountain lions.
In their defense, the section is titled "Ask Anything." Maxim makes it safe for morons everywhere to alleviate their confusion.
Both offer reviews of DVDs, movies, music, video games, and books. Playboy gives the critics five full pages. Maxim only spares two pages for the same task.
Celebrities are interviewed by both magazines. Playboy gives the reader a rich, in-depth five-page interview with Steve Nash of the Phoenix Suns. There is also two pages, plus a full-page photo, with Fergie.
Maxim does nothing quite so thorough. There are a few superficial questions for the C list celebrity chicks that they photograph. Luke Wilson gets a page. B.J. Novak from The Office has his interview responses pushed into the margins of a page shared with his photo. They also talk briefly with William Fichtner of Prison Break about his car.
Playboy dedicates the cover, an article, and several pages of photos to Anna Nicole Smith. Given her history with the magazine, this is forgivable. But I'd already heard enough about Anna Nicole and her corpse by the time this magazine fell into my hands.
Maxim, mercifully, makes no mention of the departed heiress.
Next installment: Politics, social issues, and lots of chicks.

Technorati Tags: Playboy, Maxim