Chapter 4
Of course there was an after party. These are rollergirls!
The post bout celebration was held at Dish. Dish is a restaurant by day, club by night in Memphis' Cooper-Young area.
This popular night spot was invaded by the roller army following a couple of hard fought bouts.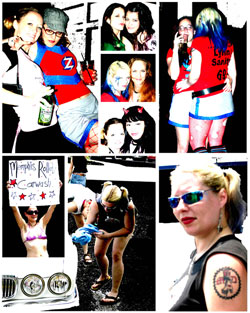 Many of the girls maintained their uniforms, or some portion of their uniforms. They were easy to spot demanding booze at the bar, filling up every table in the back room, and crowding onto the dance floor.
It should come as no surprise that there were a few rollergirls dancing closely with other rollergirls, but I will not be outing any of the magnificent descendents of Lesbos here.
At this point of the night teams didn't matter. A PrissKilla Prezleys girl sat on the lap of a Woman of Mass Destruction. Tables were crowded with girls from each team. A referee mingled freely amongst them.
Jill B. Nimble limped her way through the crowd, a Miller Lite stuffed into her front pocket while her hands were busy with crutches.
This was probably the sorority that Jill had been talking about, female camaraderie and alcohol.
Reaching across teams will likely serve the Memphis Roller Derby well in their upcoming bout against the New Orleans rollergirls. The newly formed "travel team" is composed of skaters from each of the four Memphis teams.
Other travel bouts are forthcoming, including one in July against the Nashville rollergirls. Check in with your teams' website or Myspace page to keep updated on schedules.
The Memphis crew holds special events, such as carwashes, to raise money for expeditions into enemy territory. Even girls who are not on the travel team show up to help scrub road grime from bumpers.
There is an uncommon dedication to the roller derby. None of the girls receives any money from the sport. On the contrary, participation costs them money with payment of dues and purchasing their own equipment. Uniforms are either made or purchased by the skaters themselves.
Despite the costs, roller derby leagues are popping up wherever there are ten girls and a hard, flat surface. The reasons behind this seemingly sudden resurgence of the derby are open to speculation.
Perhaps roller derby is an escape from an otherwise mundane existence. Our culture has become one of predictable schedules, uninspiring office parks, quiet suburbs, and evenings spent in front of 232 channels of reality.
Give a group of women living in this culture something that they can become passionately involved in, and they are likely to take the offer.
But that's probably not the entire answer.
There must also be some recognition that the first wave of roller derby popularity sprung up, then fizzled out, in the early 80s. The derby at that time was more sensationalistic, exploitive, and not regarded as the legitimate sport that it is today.
That was a generation ago. Most of the women competing in today's roller derby have lived their entire lives in a post-feminist world. They have always had the pill and abortion rights available to them. They have grown up in a society that somewhat (but still not completely) grants them control over their own bodies. This generation is the first that could move outside of the shadow of exploitation to make the sport something for the girls, by the girls.
It is also a time when women are exerting more power over the culture than ever before. According to the National Center for Education Statistics, in 2003 (the last year the figures were available) women earned 58% of all higher education degrees awarded in the United States. This is an established trend that is only expected to increase. The people with the degrees get the good jobs, control the money, influence the greater population. Roller derby may just be part of the first wave of cultural shifts within our society.
Girls growing up through 80s and 90s may have been disappointed by the athletic options available to them. They could play a female version of an established men's sport. Just place the word "lady" before the men's team name and pretend that they are equal.
Or they could opt for something more traditionally feminine like acrobatics or cheerleading.
Or they could make something new. Something that is uniquely feminine, where the girls get to define the sport. Something that allows them to express their creativity, their femininity, and their athleticism.
Enter the roller derby.
Buns 'n' Roses of the Angels of Death sees it as a means to combine her appreciation of the movement and grace of ballet with the performance and aggressiveness of professional wrestling. But that's just one woman's perspective. Each skater will have her own view on roller derby. And that is another powerful draw to the sport.
Roller derby encourages individualism.
From kindergarten on we are told to be a team player. There is no "I" in team. Our religions encourage us to be sheep in a flock. We are constantly made to believe that we must belong to have worth.
"If it weren't for roller derby, there would be a homicide in my house."
Teamwork is important to a community, but it is often stressed at the cost of the individual. Everyone in the office dresses the same, even though there is no uniform. Companies go as far as to regulate employees' jewelry, hairstyles, and makeup. And employees accept this because they are part of a team. The corporate team, the professional team, the winning team, however one distinguishes oneself from those on other teams. We have always been told that this is good.
"My pressed pin striped shirt says that I am not blue collar. I belong to something that I am led to believe is better." Or some bullshit like that.
The roller derby encourages individuality. Skaters develop their own identity and they absolutely express that identity. This doesn't mean that they can't function as a team. They still work very closely together to get their jammer through a pack of vicious women.
This is an ideal that needs more recognition. Children, and adults, should be encouraged to respect the "I" in team. Perhaps then we wouldn't be so quick to judge someone on her outward appearance and we could appreciate her as an individual. Once we respect that, we could see her as a valuable member of our team. Successful teams are built on diversity, not dress codes.
Maybe the draw to roller derby is all of these things, maybe it is some of them, or maybe it is none of them. Maybe it is a simple release; as Roxy Codone, a WMD blocker, New Jersey native, and mother of three young children, sees it.
"If it weren't for roller derby, there would be a homicide in my house."
Or maybe it's a little bit of all of this and more. Whatever it is, it is something extraordinary that you need to witness for yourself.
Roller Derby Posts:
Technorati Tags: memphis, memphis roller derby, roller derby, rollergirls