Chapter 2
Jill Robbins had wanted to be known as "Jackin' Jill" when she donned the quad skates, the pads, and the pink T-shirt of the PrissKilla Prezleys. The nursery rhyme moniker was intended to bring to mind images of forced theft. It may have also been interpreted as a reference to masturbation. Either way, it would have fit in well with the roller derby scene.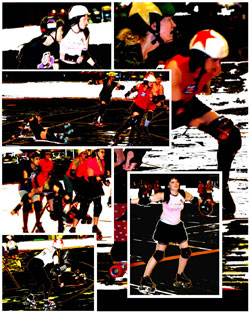 Unfortunately, a skater elsewhere in the country had already assumed the identity of Jackin' Jill when Robbins researched it. Every woman must register her roller girl name on The International Roller Girls Master Roster. Check it out sometime when you're on company time. There are thousands of names there. 8,124 at the time of this writing. That's a lot of roller girls.
All roller girls assume an alias for the track. Even the referees (Nicole Bitchie, for example) and coaches (Uni-bobber, for another example) alter their identities in fun, creative, and sometimes threatening or titillating ways.
Jill Robbins maintained a nursery rhyme theme when she settled on "Jill B. Nimble." The name was likely well suited to her.
Jill is a 27-year-old blonde with highlights in her hair. She is of average height and weight. Her fellow Memphis roller girls have officially given her the distinction of "Best Ass in the Derby." She might easily be mistaken for a typical sorority girl if it weren't for her air of authority and commanding presence.
She was undoubtedly a force to be reckoned with on the track, but then she bruised both her femur and tibia. She continued to skate for more than a month with the injuries before she finally visited a doctor. Now Jill B. Nimble demonstrates her dexterity on crutches. Still, her aura says "Don't fuck with me" without a word.
Jill still maintains her position as captain of the PrissKilla Prezleys, and she hopes to be back on the track soon. She was one of the founding members of the Memphis Roller Derby when it started up in February 2006. Jill is a competitive person and had been looking for a sport to keep her in shape. She describes roller derby as an "exercise program that got out of control."
Why not something that would run a lower risk of a bruised femur and tibia? Maybe softball, ultimate Frisbee, or soccer.
Jill describes it as "…like a sorority gone wrong."
"Because those are really boring," she says; then laughs at her answer. Jill is not the only girl who has experienced a significant injury. Machine Gun Kelly, a slinky jammer for the Legion of Zoom (Z girls), estimates that at least 50 percent of the girls have experienced something beyond minor bruises and scrapes.
Machine Gun, as her Z girl teammates call her, has suffered a partially torn posterior cruciate ligament and dislocated her shoulder. She describes these injuries as "no big whoop."
This tough talk may not be what most expect from an attractive young massage therapist.
Like Machine Gun, aka Kelly Derscheid, most of the roller girls have secret, considerably tamer, identities.
True, many of the Memphis roller girls sport visible tattoos or unnatural colors in their hair. But just as many could easily blend in with a traditional Sunday church crowd.
A regular Tuesday night practice at the Collierville Funquest fills the venue with a variety of women. Ages range from 21-43. Children bounce on the playroom equipment while their moms strap on pads. Husbands, boyfriends, and girlfriends make use of the game room or simply watch their favorite girl go through a variety of exercises.
Each of the four teams takes some time to run drills before pairing off for scrimmages. This is when a lot of damage actually occurs. Both Machine Gun Kelly and Jill B. Nimble owe their injuries to practice scrimmages.
During Tuesday's practice bout between the Z girls and the Women of Mass Destruction (WMD) (MySpace), a skater went down hard. The other girls quickly came to a stop while the injury was inspected. The bout continued once it was determined that she would be okay, more or less.
The PrizzKilla Prezleys (PKP) faced off against the Angels of Death (AOD) (MySpace) in their scrimmage. Tensions quickly arose on the track. There were implications of unnecessary and illegal aggression that had escaped the notice of the referees.
This is to be expected in any physically competitive sport. Jill B. Nimble says that the rule is: "Leave it on the rink."
This may not be a problem most of the time. The women all train together and possess a kindred spirit. Off the track they mingle with each other freely, regardless of uniform. Jill describes it as "…like a sorority gone wrong."
But Buns 'n' Roses of the AOD sees her team as not necessarily a part of the sorority, or at least a very different part of the sorority. She distinguishes the AOD as more heavy metal and straight edge influenced than their fellow Memphis roller girls. While the girls from the other teams may be distracted by special events and after parties, Buns sees the AOD as dedicated almost solely to winning. Part of this may be due to the discipline of their coach, Jonjitsu, who is also a jiu-jitsu instructor.
Each team is filled with strong willed women and attitude. At some point the aggression will inevitably spill off the rink, whether or not there is a guideline against it. The tensions seen during the scrimmage will boil up again in the bout. Look for that in the next chapter.
Roller Derby Posts: