Technology Archive
At the Expense of Friendster

MySpace claims over a 110 million active users and growing. It still is the premier online community for music BUT has it's time passed? Every month a new social network comes online that caters to a more niche demographic and more improved with web 2.0 (wikipedia) goodies. Just as MySpace learned from Friendster these new networks have learned from MySpace. Originally I was on Friendster, and then moved over to MySpace when I discovered the site short there after most of my friends were on board. It was so flexible so with a little html you could really "trick out" your page. There was music and lots of it which helped with my podcast. MySpace wasn't perfect, it had bugs and it went down fairly often. I could deal with it at that time.

MySpace Today?

Fast forward to now. The site has grown to 200 million profiles from the 19 million when I joined. I have a list over 400 friends which I kept tight mostly with friends I know in-person. The company was bought by News Corp which is focused on leveraging the user base for revenue. The New York Times reported they make $40 million a month currently and want to expand it to $70 a month in 2008. Almost every new feature introduced is to stave off a competitor (video, politics, movie trailers, films) while removing some of the flexibility I loved. (CSS Styles and some HTML on bulletins). The site is over run with porn and spammers. I personally get a dozen or more porn "friend requests" a day. The annoyances have got overwhelming.

The New Social Darlin'

The new social darling is FaceBook. Not really new but just this year you could open an account with out a EDU domain email. It doesn't have the flexibility of MySpace but it doesn't have the spam or porn either. (As of yet that is) They have hundreds of little applications that you can add or subtract from your profile. The best feature is the news thread, when you interact with the site it adds it to the thread. So all your friends see what you're doing. You can you control how much is show so if you want to let everybody know what your up to or nothing at all. Everyday I see a list of things my friends are doing, with MySpace you could add a friend and never see them again. The site isn't as easy to use as MySpace but just like anything new it gets easier. FaceBook is my new hangout. If you're on FaceBook go ahead and join our FaceBook group.

Is MySpace Over?

Getting down to what does that mean for music artists? Do you abandon your MySpace page? The quick answer is "No." The longer answer is sort of but you will have to diversify. Where you only had a MySpace page I would say you would have to expand to other social networks; FaceBook is a good place to expand. Like in the past I it does not replace your main website. Everything leads to your main website. One of my previous posts explains this more Are You Promoting MySpace or Your Brand?

Next post FaceBook Basics for Artists - Getting Started

Further Reading:

Technorati Tags: facebook, friendster, online marketing, social networking, web2.0

" title="Is MySpace Over? Done? Stick a Fork In It?" />

At the Expense of Friendster
MySpace claims over a 110 million active users and growing. It still is the premier online community for music BUT has it's time passed? Every month a new social network comes online that caters to a more niche demographic and more improved with web 2.0 (wikipedia) goodies. Just as MySpace learned from Friendster these new networks have learned from MySpace. Originally I was on Friendster, and then moved over to MySpace when I discovered the site short there after most of my friends were on board. It was so flexible so with a little html you could really "trick out" your page. There was music and lots of it which helped with my podcast. MySpace wasn't perfect, it had bugs and it went down fairly often. I could deal with it at that time.
MySpace Today?
Fast forward to now. The site has grown to 200 million profiles from the 19 million when I joined. I have a list over 400 friends which I kept tight mostly with friends I know in-person. The company was bought by News Corp which is focused on leveraging the user base for revenue. The New York Times reported they make $40 million a month currently and want to expand it to $70 a month in 2008. Almost every new feature introduced is to stave off a competitor (video, politics, movie trailers, films) while removing some of the flexibility I loved. (CSS Styles and some HTML on bulletins). The site is over run with porn and spammers. I personally get a dozen or more porn "friend requests" a day. The annoyances have got overwhelming.
The New Social Darlin'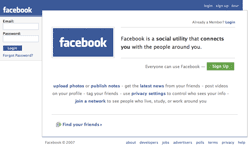 The new social darling is FaceBook. Not really new but just this year you could open an account with out a EDU domain email. It doesn't have the flexibility of MySpace but it doesn't have the spam or porn either. (As of yet that is) They have hundreds of little applications that you can add or subtract from your profile. The best feature is the news thread, when you interact with the site it adds it to the thread. So all your friends see what you're doing. You can you control how much is show so if you want to let everybody know what your up to or nothing at all. Everyday I see a list of things my friends are doing, with MySpace you could add a friend and never see them again. The site isn't as easy to use as MySpace but just like anything new it gets easier. FaceBook is my new hangout. If you're on FaceBook go ahead and join our FaceBook group.
Is MySpace Over?
Getting down to what does that mean for music artists? Do you abandon your MySpace page? The quick answer is "No." The longer answer is sort of but you will have to diversify. Where you only had a MySpace page I would say you would have to expand to other social networks; FaceBook is a good place to expand. Like in the past I it does not replace your main website. Everything leads to your main website. One of my previous posts explains this more Are You Promoting MySpace or Your Brand?
Next post FaceBook Basics for Artists - Getting Started
Further Reading:
Technorati Tags: facebook, friendster, online marketing, social networking, web2.0
Distribution of media is getting easier as technology becomes less expensive. A few years ago you needed a million dollars to get an album out on sale somewhere. Today an internet connection can do the same and reach more.
Purchasing your media is the same, more choice and variety. No longer do you have to go to Best Buy to get the newest Smashing Pumpkins
album. You have the big box retailers, online big retailers along with the small shops like CD Baby and then there is iTunes, Emusic, Yahoo!, etc. Then there are the new places you wouldn't expect like Starbucks which now is also a music label (Starbucks Entertainment aka Hear Music) and Cracker Barrel.
Where does it go next? It goes to even more non-traditional like food and non-music retailers. As these companies markets mature their expansion slows which affects stock prices and they go looking for niches to continue growth. Music and video are inexpensive and effective ways to do this.
Driving down 12th Avenue is a billboard for McDonalds Redbox DVD rentals. You can go to almost any McDonalds in Nashville and rent a DVD via a machine like a bank auto teller machine. For $1.00 a night you can get the top 70 new releases. The best part is you can return it too any other McDonalds that has a Redbox kiosk.
Doesn't sound like a bad idea overall, McDonalds gets repeat traffic and probably a cut of each machines rentals or flat fee. Redbox gets an instant audience and can compete with Blockbuster not in amount of DVDs for rent but for customer convenience.
So when do you think McDonalds or Burger King are going to greet you with "Would you like the new Protomen album with your combo meal?"
Further Reading: